We love seeing talented female table tennis players who have a point to prove on their way to the top. We've compiled a list of our favourite emerging stars to watch out for in the next 12 months.
Doo Hoi Kem
At age 24, Doo is amongst the brightest stars from Hong Kong, China. With World Championships to her name in the mixed and doubles disciplines, Doo is chasing individual glory, and her trajectory suggests it won't be long now. Breaking into the spotlight in 2014, Doo has solidified her place amongst the best players today with high profile wins on big stages and her ability to emanate cool and strategy in her matches.
Mima Ito
The only national not from China in the top five, and even the top seven in the women's WTT rankings, Ito is China's biggest threat to WTT domination. Six senior women's singles titles, a team bronze from Rio 2016, and gold at the World Tour Grand Finals are just a few accolades on the 20-year-old's resume (Yes, you read right, she's still just 20). Breaking out at just thirteen years old as an explosive and competitive player, Ito has been upsetting Chinese opponents and winning in the process.
Dina Meshref
Egypt's Dina Meshref is eyeing international breakthrough, after representing Egypt at the Tokyo Olympics, the No.36 has had an interesting rise to playing professional table tennis- she is one of the first Egyptian players to become a professional player, and is the first Egyptian to be included in the list of the 50 best players in the world.
She first took up tennis before finding table tennis to be more interesting. "I used to go visit the table tennis hall at my club Al-Ahly with my father since he was the table tennis manager. One day when I was eight, one of the coaches [Mosaad Rohayem] told me, 'Why don't you try playing some table tennis?' It was then when I started my table tennis journey.
Her father has also served as vice president of the Egyptian Table Tennis Federation.
Dina currently plays in the French table tennis league.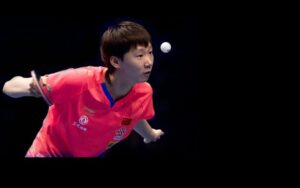 Wang Manyu
At just 22 years old, Wang Manyu is world number four and has a solid resume of team and doubles gold medals for her country and a trove of World Tour titles. Gifted with a wide wingspan, Manyu is not the opponent you want to face on her best day. She is already a staple in the Chinese national team and still has her best years ahead.
Sun Yingsha
After a breakthrough season in 2017, Sun Yingsha has been rolling with major momentum. At 16, she was crowned World Junior Champion and has not looked back since then, winning multiple World Tour titles and establishing herself as a reliable member of the national team. Sun sent a strong message with her display at the 2019 World Championships, which put the women's circuit on notice.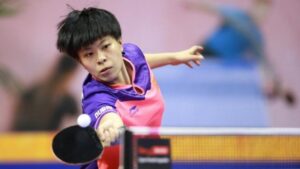 Wang Yidi
She is not in the top ten yet, but Wang has a never-say-die style to her game and personality, making it hard not to see her higher up the rankings with more silverware in the near future. Her maiden World Tour women's singles gold came in 2019, but silverware will not be a problem for too long.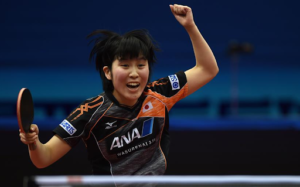 Miu Hirano
Alongside compatriot and national team partner Mima Ito, Miu became the youngest ever World Tour champion, at age 13, in 2014. Two years later, Miu shocked the world to unsettle Chinese supremacy and claim gold at the women's World Cup. Nicknamed Hurricane Hirano, her speed, hard-hitting rallies, and imperious forehand have made her a true force of nature in the women's game.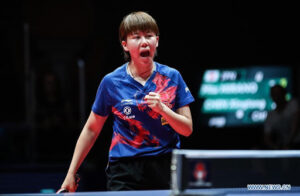 Chen Xingtong
There is a reason why China is at the top of world table tennis, their constant output of world-class talent. Chen is one of those rising talents from the Asian powerhouse. Quick feet and even quicker reflexes have made her a nightmare opponent and helped her excel in every discipline, from doubles to singles.