At the 1996 Atlanta Olympics, US Gymnast Kerri Strug found herself holding the weight of not just her team but her entire country on her shoulders.
Her performance would be the difference between gold and silver for Team USA.
Her first vault was a disaster. As she landed awkwardly on her feet, her ankle buckled painfully underneath her.  Wincing with pain, Strug realised that she would have to perform her final vault with an injured ankle.  All eyes were on her as she catapulted herself into the air.
She stuck the landing and won team gold for the USA for the first time.
Seoul 1988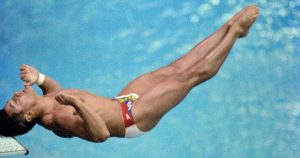 Eight years earlier, at the Seoul 1988 Olympics, diver Greg Louganis, revered as one of the greatest divers in history and with the nickname 'Mr Perfect', was facing his pet springboard competition. In nearly two decades of training and competing, he had launched himself off the board more than 200,000 times without ever once injuring himself.
Yet this time, after eight rounds of springboard heats, something went wrong during a reverse somersault and he slammed his head on the board. Blood trickled into the pool below.
Would he be able to mentally and physically compete in the final dive the following day?
Instead of giving up, he stitched up his injury, faced his fears and came back to the diving board to win gold.
Beijing 2008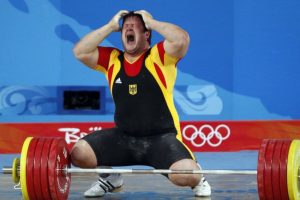 Matthias Steiner was living his dream life, newly married, and training for the 105+kg category in weightlifting at the Olympics Games, where the winner is considered to be the strongest man in the world.
However, tragedy struck a few months later, and his wife was killed in a car crash.
Having always promised his wife that he would win an Olympic medal, his coach told him he had to lift 248kg to win the bronze medal.
His previous best wasn't even 235kg.
When Steiner walked to the podium, he nailed the lift, but was quickly bested by Russian Evgeny Chigishev who lifted 250kg, leaving him 9kg behind.
So Steiner decided to attempt a 258kg clean & jerk, his heaviest ever.
Steiner said in an interview, "I thought of the words of my coach, Frank Mantek. He told me the very best athletes are distinguished by one thing. They compete a lot of times, but they only have a few where they have one try which will decide everything and that can change their life. In life, you only have two or three, maybe only one chance, and you have to grab it. That's the difference between a very good athlete, and a champion."
When he accepted the gold medal for his combined total of 461Kg, he held up a photo of his late wife, who would otherwise have been with him at the Games.
The last vault. The last dive. The last lift.
What all these athletes have in common is that when it mattered the most, they found that extra 5% to push themselves a little bit further and give themselves the edge over the other athletes to win the gold medal and become champions.
That extra 5% can be as small as a millisecond in a race, a score difference of 0.1, a nose across the finish line, and yet its impact is everything.
The stories of gymnast Kerri Strug, diver Greg Loumbaris, and weightlifter Matthias Steiner give us powerful insights into what strategies push them into the realm of champions.
1. They measure their success against themselves
Athletes are constantly testing themselves and looking to understand how they can break their personal records. They are also looking at overthrowing the competition, but at the end of the day, they are testing to see how much they can handle and rethinking how they perform and how they can reach their potential.
2. Focus and simplify their actions
A marathon runner can't waste their time thinking about how tired they are, thirsty, or how much longer they have to run. Instead focus on increasing intensity. They simplify and focus on what they can do- one step, in front of the other.
When it comes down to those final moments, knowing how to work with their strengths and maximise the intensity of the individual movement is the difference between gold and going home empty-handed.
3. Relationship between coach and athlete
The coach and athlete relationship is a symbiotic one; they must know the athlete inside and out know when to push, when to back off, what the athlete needs to hear to perform. Coaches need to equip their athletes with the resilience, decisiveness, and strategy to act in the face of unpredictability and adversity- and come out on top.
The greatest Olympic moments all have one thing in common- they are examples of the extra 5% that pushes the athlete to achieve their potential and soar above their competitors.
If you'd like to learn more about how we can give you that extra 5% through AI performance analytics, we'd love to talk to you: iggy@edworkz.co