Although many people feel the Olympics is over, that's not true, the Paralympics kicked off this week, with over 539 events over 22 sports. With Covid lockdowns or work-at-home rules in place for various locations globally, there will be additional and interested viewing towards Tokyo again.
In the words of the well-known Australian paralympian and world no.1. wheelchair tennis champion Dylan Alcott, "To me, and to many of the 1.3 billion people around the world living with disability, the Olympic Games is the warm-up event for the Paralympic Games."
Athletes to watch
Athletes and teams we'll be keeping an eye on: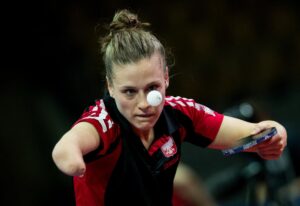 Polish table tennis player, Natalia Partyka
Polish multi-medallist Natalia Partyka enters her sixth Paralympic Games aiming for a fifth successive table tennis singles title. She is a seven-time world champion, winning at Athens 2004, Beijing 2008, London 2012 and Rio 2016, and is one of five women with eight Paralympic table tennis medals. Only one woman, China's Zhang Xiaoling, with nine, has claimed more.
Partyka is no stranger to breaking records at the Paralympics. She was the youngest Paralympian in table tennis history when she competed at Sydney 2000 aged just 11.
At Athens 2004, she became the youngest Paralympic table tennis champion, and she was the first table tennis athlete to compete in both the Olympic and Paralympic Games when she qualified for the Beijing 2008 Olympics.
She was born without a right hand and forearm. Her journey to the top began with her sister Sandra, and he talent quickly outgrew the family table tennis setup and friendly competition.

On the track, Jonnie Peacock
Jonnie is heading to Tokyo 2020 to defend the 100m T44 title which he's won since London 2012.
The 19-year-old T44 sprinter broke the world record by clocking 10.85 seconds in the London Olympics  to become the fastest leg amputee, and he would soon find himself up against defending champion Oscar Pistorius and world champion Jerome Singleton in the men's 100m final at London 2012.
At Rio 2016 Peacock defended his title, winning gold in the T44 100m, in 10.81 seconds.
Team Australia in Wheelchair Rugby
We're looking forward to watching Australia in Wheelchair Rugby, to see if they can make it a hatrick of gold medals after winning London 2012 and Rio 2016.
The Australian team, the Steelers, are the two-time defending Paralympic champions and ranked number one in the world.
In Rio, Australia beat the United States — now ranked number two — in a dramatic gold medal game, winning 59-58 in a game that went to double overtime.
The US won silver, while Japan took the bronze. The Australian team will face Japan on Friday August 27. The winner of that game will most likely finish top.
Like any Olympics, there will be heartache, pain, glory and days of uplifting stories. We'll be glued and cheering them on! #goforgold