It seems like the Olympics were just yesterday, but for these winter athletes, their season has just begun. As the winter sports season kicks into high gear, leading into the Winter Olympics in Beijing 2022, we're taking a look at some of the mogul skiers competing at Indre Fjall in Sweden.
Women
Perrine Laffont (FRA)
The winning streak dating back to 2019 of the 23 year old moguls Olympic champion, was snapped last weekend. Laffont didn't even make the podium in the World Cup season opener in Ruka, Finland. The Frenchwoman ended up fourth and it marked her first time off the podium since January 2018, a month before she became the youngest Olympic freestyle skiing champion ever at 19. Laffont won all nine World Cups between the 2019-20 and 2020-21 seasons, plus last season's world championships. She will be hungry this weekend in Sweden to get back on the podium.
Hannah Soar (USA)
Soar is the No. 3-ranked mogul skier in the world and No. 1 in the U.S. She's 22 and a medal contender for the 2022 Beijing Winter Olympics. Regarded as one of the fittest in her discipline, Soar has been known to go skinning for up to a week at a time where skiers climb up a mountain with their skis on and then ski down. She did 18 peaks in Vermont, sometimes three in one day, for a whole week earlier this year. Finishing 5th last weekend in Ruka, she will be determined to grind her way back to the podium.
Jakara Anthony (AUS)
Finishing 4th at the last Olympics, this powerful Aussie has trained relentlessly in the off-season to improve her position at the 2022 Beijing Winter Olympics. Her preparation and determination showed at the World Cup season opener in Ruka, Finland last weekend where she finished 2nd, and only the 7th time she's had a podium finish in the individual event at World Cups. The 23 year old is fired up and ready to show that last weekend was more than luck, at this weekend's event in Indre Fjall, Sweden.
Olivia Giaccio (USA)
The American earned her first World Cup victory last weekend in Ruka, Finland. Giaccio, now 21, was the highest-ranked U.S. woman who didn't make the 2018 Olympic team. In limited World Cup action over the last two seasons, her best finish was 14th. She also missed time after January 2020 with surgery to repair a left ACL tear. However, she dominantly announced her return with the Ruka victory and will be focussed to repeat her performance this weekend in Sweden.
Men
Mikael Kingsbury (CAN)
Many consider Kingsbury the G.O.A.T. of mogul skiing. The current Olympic gold medalist claimed his 66th victory last weekend in Ruka, Finland, more than other mogul skier in history. The Canadian will no doubt set the pace again in Sweden this coming weekend and looking for his 67th victory.
Matt Graham (AUS)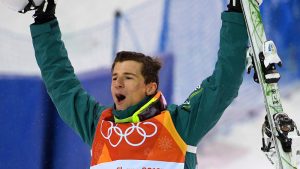 Finishing No.1 in the World Cup standing last season, Graham is known to be one of the hardest working skiers across the whole year. Finishing 10th last weekend in the season opener in Ruka, Finland, the Aussie will be disappointed but determined to get back to the podium. A bronze medalist at the 2018 Olympic Games, you can bet Graham will be close to a podium finish this weekend.