The IOC billed the recent Tokyo Olympics as the most 'gender-equal Games of all time, with female athletes making up a record-breaking 49 per cent of participants.
However, while athletes may be experiencing greater gender parity and diversity, the higher you go up the sports ladder, the fewer women you find in leadership positions.
The Female Coaching Network, an organization, driving diversity in sports, compiled a list of the number of female coaches in some sports from the recent Tokyo Olympics.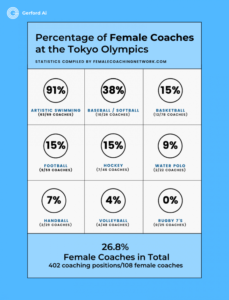 While sports like Artistic Swimming and Baseball/handball have decent female representation, many popular team and individual sports are falling behind in hiring and training female coaches. In the US, where college sports are often the gateway to professional success, most women's college teams are coached by men. 
There are many complex and historical reasons why women struggle to climb the very steep sports ladder- but it all boils down to the same story. This quote from Forbes sums it up "The truth is men dominate coaching for the same reason that they run most of our Fortune 500 companies and our country. When we think of leaders, we tend to think of men."
Even within the International Olympic Committee's esteemed ranks, women only comprise a third of their executive boards and only 37.5 per cent of committee positions.
Sporting bodies, from the Olympic Committee to local community teams, to the professional teams in between, are missing an opportunity to increase their success by encouraging and making conscious decisions to hire women in leadership and coaching positions. 
According to McKinsey & Co (2020), a survey of over 1000 companies from 15 different countries showed that gender diversity on executive teams led to a 25% increase in the likelihood of above-average profitability. There is evidence to support the vast benefits of diversity to businesses in general and sports in particular. 
Given that audiences and markets are diverse, and female sport participation is greater than ever, it is important that talented female coaches are recognised and supported in their ambitions. Increasing diversity across the board can only be a positive influence on the future of sport.