There's the gut of the coach, there's the intuition of the player — and, then there is data and analytics. Japanese table tennis star Mima Ito played Olympic gold medalist Sun Yinghsa (CHN), twice during the Olympics. Our AI technology analysed their matches, and we found that on their second head to head Mima completely altered her way of playing- contributing to an improved point result and game play.
Sun Yingsha (CHN) defeated Mima Ito (JPN) in the women's singles semi final on 29 July, then they played each other one week later in the final of the teams event, on 5 August, with the same outcome of Sun winning. 
Gerford AI's technology reviewed both matches and found Ito's approach in match two was vastly different. 
Sun (CHN) vs Ito (JPN) – 29 July (Graph 1: ball bounces of Ito's serves)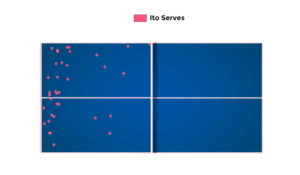 Sun (CHN) vs Ito (JPN) – 5 August (Graph 2: ball bounces of Ito's serves)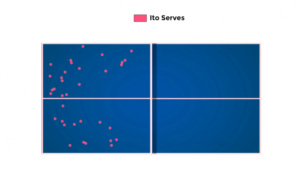 On 29 July, Ito lost the match 4-0. One week later, she lost again but won a game. She also won 42% of points on 5 August vs only 33% of points on 29 July. You can see in Table 2 where she mixed up her serves a lot more and used a lot more of the table vs Table 1.  A clear contributor to better numbers for her 5 August match.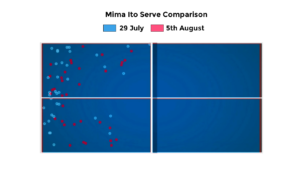 To learn more about our AI match analytics, we'd love to talk to you info@gerford.com