There's the gut of the coach, there's the intuition of the player — and, then there is data and analytics.
Gerford AI's technology did a deep dive into German player Dimitrij Ovtcharov's key Olympic matches against Chinese power players Fan Zhendong (world no.1), and Ma Long, the eventual gold medalist.
Many asked why Ma Long did not play against Dimitrij Ovtcharov in the first singles match of the men's teams event final for table tennis in Tokyo. Instead, the Chinese team decided to put Fan Zhendong against the German. 
Although Fan won in what looked to be a tight match of 3-2, the deeper stats show a match which was not as nearly as tight as the week before of Ma vs Ovtcharov (individual semi-finals).
Did the Chinese team see something nobody else saw when selecting Ovtcharov's opponent for the 6 August match?
Our Computer Vision analysed both matches and below are some highlights of the data.
Chart 1: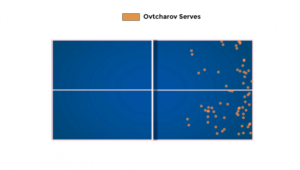 Chart 1 above vs Ma on 29 July: Dima served 60% of his serves in the deep third of the table (shown in Chart 1). He won 60% of his points on serve. 
Chart 2 below, shows 60% of Ma's receive of serves, landing in either the middle third or short third of the table. Giving Dima opportunities for his second and third balls in the rallies. 
In the overall match, Ma won 69 points to Dima's 68 points………the only difference of 1 point being Ma won one more point than Dima, on the receive of serve.    
Chart 2: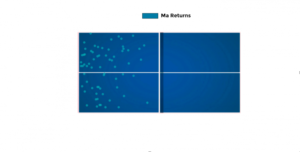 Chart 3: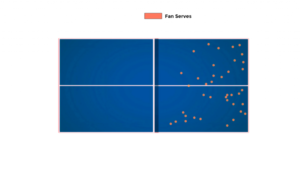 For the match vs Fan on 6 August, Dima won 44% of total points played vs 49.6% of total points the week before vs Ma. 
Looking at Fan's serve patterns above in Chart 3, he served almost 30% short to the middle of the table and 55% wide and deep or deep to the backhand. Where these patterns reaped rewards for Fan, was in the 5th and deciding game where he won six points straight assisting him to runaway and win it 11-3. 
Below in Chart 4, shows Fan's mixture of return of serves. Fan won 13 of 14 points on serve for the last two games, and did not lose a point on serve in the 5th game. Dima only managed to win 7 of 16 points on serve in the last two games. 
Fan's mixture and variety seemed to have had an edge over Dima's intensity and momentum.  
Chart 4: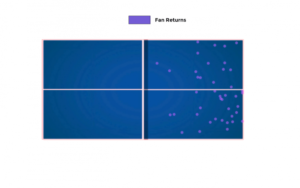 To learn more about our AI match analytics, we'd love to talk to you info@gerford.com